Phoebe Osborne
The presenter has activated the presenter mode. Would you like to follow?
Follow presenter
You are following the presenter.
Stop following presenter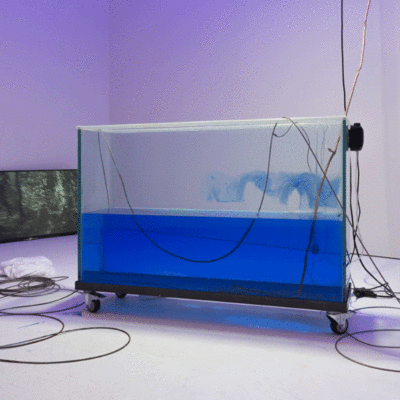 Phoebe Osborne
DAS Choreography
Phoebe Osborne, New York, NY
b. 1984
Phoebe Osborne is a visual artist and choreographer based in New York, NY and Amsterdam, The Netherlands. The relationship of bodies and environments in their imminent and intimate negotiations drives the results of Osborne's practice with video, sculpture, and performance offering various textures of exchange and kinship. Their process is a method of thinking about enmeshment as a politically complex aspect of participating within the world. Their work resounds with embodiments of energetic and material entanglement. Osborne's works have been presented across the US and Europe, including commissioned performances at Transmediale Berlin, La Caldera Barcelona, SFMoMA and Oakland Museum of California, and Lenfest Center for the Arts, NYC. They have exhibited at City Limits (Oakland), Southern Exposure (San Francisco), False Flag (NYC), SculptureCenter (NYC), The Boiler Pierogi Gallery (NYC), and e-flux Bar Laika (NYC). Osborne was a 2017 recipient of the DanceWEB scholarship at Impulstanz in Vienna. They are a current two-year resident artist at the Hercules Art/Studio Program in Lower Manhattan. Osborne holds an MFA in Visual Arts from Columbia University and is a current MA candidate at DAS Choreography.

My research at DAS Choreography has located itself in water which has culminated in a choreographic work, .

Water-
And its' social-political-environmental resonance with the poetics of precarity. 
Instability and malleability. Constant change as an intimate public experience. 
Water-
As a vehicle for connection and oppression on social and environmental levels.
hydra proposes that our relationship to water can be re-shaped within public space. 

Hy-dra /ˈhīdrə/ noun
trouble that cannot be overcome by a single effort because of its many aspects or its persistent and pervasive quality. 

a minute aquatic invertebrate animal with a tubular body and a ring of tentacles around the mouth. 

a many-headed snake-bodied immortal monster in Greek mythology, slain by Hercules.

a southern constellation of great length that lies south of Cancer, Sextans, Corvus, and Virgo and is represented on old maps by a serpent.

hydra both acknowledges the pervasive trouble of capitalism and colonialism that has led to the ravaged state of our earth and the life within it while also reclaiming hydra as an empowering term for the queerly monstrous, many-headed, shapeshifting force that we are together. 

We are a hydra within a hydra.
Bodies and lives in a pervasive and persistent monstrosity of capitalism and colonial oppression.
Bodies and lives of malleable liquidity, undulating and shapeshifting through cracks and bends to survive-
with care for one another. 
A bubbling up of subfloor only to be lifted and carried to the coral reefs- a traversing thrust.
An act of collective resilience 
and of rage for living. 
Rage for being together.
a many-headed monster of felted kinship held by nuance and difference 
a together dance in volatile waters.