Mariana Senne
The presenter has activated the presenter mode. Would you like to follow?
Follow presenter
You are following the presenter.
Stop following presenter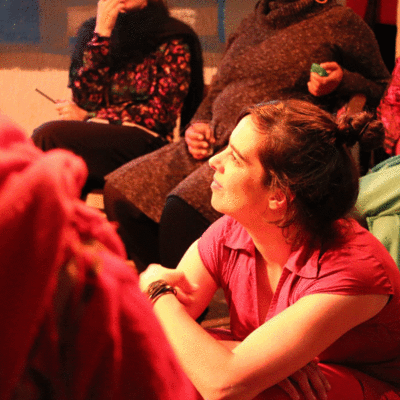 Mariana Senne
DAS Theatre

Mariana Senne, born in São Paulo, Brazil, is a Berlin-based theatermaker and performer, who in her current research explores intercultural theatrical practices, developing new forms of staging, with a focus on feminist and postcolonial themes. She was a member and co-founder of one of the best-known and most innovative groups in São Paulo (Brazil) called Cia São Jorge de Variedades. The group had as its main research theme the discussion of ethical issues inherent to the diversity and paradoxes of Brazilian culture, from its formation in colonization to contemporaneity.
After this long period working with São Jorge, Mariana started to collaborate with other collectives and directors, among which Andcompany&co (Berlin/ 2010 "Fatzerbraz", 2018 "Invisible Republic"), Karin Beier (Hamburg/ 2014-2016 "Pfeffersäcke im Zuckerland"), Friendly Fire (Leipzig/ 2015 "Secret Secrets of the Beehive"), Joachim Robbrecht and De Warme Winkel Groupe (Amsterdam/ 2017 "Exoot - Tropical Healing). Since 2013, Mariana conceives her own authorial projects like "Madame B-FitaDemo" (São Paulo/ 2013) and "Landscape with Argonauts" (Hildesheim/Giessen/Berlin 2015), inviting collaborators to work with. She moved to Germany in 2014 and through the support of the DAAD (Deutscher Akademischer Austauchdienst) she was able to develop further her own research as a theater-maker in the University of Hildesheim.
Mariana is many: an actress, a musician, a maker. She is at the same time an experienced, many-sided artist, but also a thinker with a heart for actvism. she is currently pursuing the Das Theater master's degree at the University of the Arts in Amsterdam (supported by the Talent Grant Scholarship) where she continue and deepen her research as a theater maker.
DAS Theatre Research
My current research investigates the origin of the female erasure in the cultural history of the West and the uninterrupted impulse to colonize the female body, either making invisible what we are (the invisibility of Vulva) or making invisible a lot of the work we usually do (the invisibility of domestic work). My interest in working with these two invisibilities is because they reveal a hierarchy built on gender, as well as race and class. My goal is to create a theater-performance that is able to envision an exit out of this imposed hierarchy. How to subvert the role to which woman have been confined in capitalist society? Formally it's a research about a possible aesthetics of guerrilla. A one shot action. This shot, carries with it vulnerability as power (inspired by the works from Valie Export) and "mocking with" as tactic (inspired by the self entitled multimedia whore Annie Sprinkle).