The presenter has activated the presenter mode. Would you like to follow?
Follow presenter
You are following the presenter.
Stop following presenter
Getting Tropical - worst version


Project van:
Karina Villafan (SNDO)
Saturday: 26.06.
Start: 20:30 (remains available afterwards)
The performance "Getting Tropical, worst version" is proposing to critically think on the foundation myth of Brazil, as a European superfictionional creation that has been perpetuated and re-enforced until today in the media as an earthly paradise, counterbalanced by the narratives of violence. In this work, Brazil is considered a successful horror project, geographically formed by colonized and post-apocalyptic bodies.  
The piece is constantly shooting symbols of tension between the institutional project and the strategic possibilities of breaking it. Developing transgressive performative practices of re-invention, based on negotiation, imitation, false domestication, humour, denunciation, satire and disidentification, which we call: Strategies of Cracks. 
"Getting Tropical, worst version" is presented as a side B of Karina Villafan's performance "GettingWorse" (ISO gallery, 2020). 
bio: 
In my last performances I have been dealing with different political themes as: sex politics and sex work (sugarterrorism, 2018), strategies to answer situations of oppression through art (I am manifesto, 2019), retelling colonial dutch narratives in a spiritualist, trash, epic and decolonial perspective (The Cape of Storms, 2019). The counter-narrative of the end of the world spoken by non-western realities (Getting worse, 2020). As an artist I like to explore what I call 'twisted entertainment', the playing of conventions and formats with a humoristic and ironic approach on the surface in order to create space for criticism on a deep level. 
credits: 
Getting Tropical - worst version 
Directed: Karina Villafan 
Performing: Clara Saito and Thais di Marco 
Advised: Flavia Pinheiro and Fernando Belfiore 
Soundtrack: Nadia Bekkers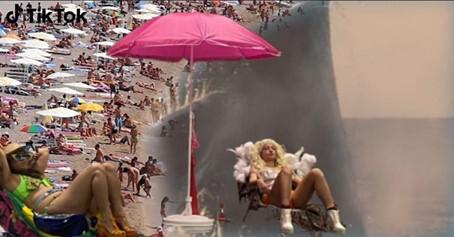 Brazil Connecting Cultures Curatorsonly Dance Fiction Freedom of Movement GTA Gender Identity Instagram Installation Interdisciplinary International Nature Onlyfans Opleiding Performance Public debate Sensitivity  Sensuality Spoken ENG Text-based Theatre forabolsonaro gostosasagainstbolsonaro influencersinthewild